Jeremy Hunt reportedly announces leadership bid
It looks like foreign secretary Jeremy Hunt has confirmed he is running to replace Theresa May – the first cabinet minister to do so. His local paper, the Farnham Herald, reports that he made the announcement at the Haslemere Festival in his constituency of South West Surrey.
In a video posted on the publication's website, Hunt says: "I'll make an announcement on my candidacy at the appropriate time"…
We're doing something different … and we'd like to explain why. Our journalism now reaches record numbers around the world and more than a million people have supported our reporting. Unlike many news organisations, we haven't put up a paywall – our journalism remains accessible to all, so more people have access to accurate information with integrity at its heart. This is The Guardian's model for open, independent journalism.
Our model enables people to support us in a way that works for them. Readers' support safeguards our essential editorial independence.
Make a contribution – The Guardian
Speaking in Dublin after voting in the European and local elections in Ireland, the taoiseach, Leo Varadkar, said the new phase of the Brexit process could be "a very dangerous one for Ireland".
Obviously, as anyone can see, British politics is consumed by Brexit and will be consumed by Brexit for a very long time. It now means we enter a new phase when it comes to Brexit and a phase that may be a very dangerous one for Ireland.
In the next couple of months we may see the election of a Eurosceptic prime minister who wants to repudiate the withdrawal agreement and go for a no deal, or we may even see a new British government that wants a close relationship with the EU and goes for a second referendum.
Whatever happens we are going to hold our nerve, we are going to continue to build and strengthen and deepen our alliance across the European Union, and we will make sure we see Ireland through this.
He also paid tribute to May:
We worked very closely on issues over the past one and a half years on Brexit and the North. I particularly want to pay tribute to her to agreeing to retain and strengthen the Common Travel Area.
As a result of the agreement we made, British and Irish citizens are able to live, work, study, travel and access healthcare, housing, education and welfare and pensions in each other's countries as though we are citizens of both.
That is going to be there and protected no matter what else may happen as a consequence of Brexit and part of that was done because of her work with us, and I want to pay tribute to her and her team for that.
Updated at 1.57pm BSTFacebookTwitter
Guardian journalists have put together this on the reaction by EU leaders to today's announcement that the British prime minister is to resign.
Read more
EU leaders are to hold emergency talks next week as they prepare for a "different breed" of Brexiter to replace May, as concerns grow the risk of a no-deal withdrawal has increased.
In a statement, the French president, Emmanuel Macron, said:
It is too early to speculate on the consequences of this decision. The principles of the European Union will continue to apply, including the priority to preserve the smooth functioning of the EU, which requires a quick clarification.
A spokesman for Angela Merkel, said the German chancellor, had noted May's planned departure with respect and that the repercussions would depend on developments in British domestic politics.
Mark Rutte, the Dutch prime minister, said: "The agreement reached between the EU and the United Kingdom for an ordered Brexit remains on the table."
A spokeswoman for Jean-Claude Juncker said the European commission president had followed May's tearful statement "without personal joy", and described her as a "very courageous woman".
Updated at 1.58pm BSTFacebookTwitter
Lunchtime summary
It's finally happened. Theresa May has announced her departure from 10 Downing Street. In a speech this morning following a meeting with Sir Graham Brady, the chair of the 1922 Committee of Tory backbenchers, the prime minister said she would stand aside on Friday 7 June, with the process to select a new Conservative party leader starting the following week. Fighting back tears, she said:
I will shortly leave the job that it has been the honour of my life to hold. The second female prime minister but certainly not the last. I do so with no ill will, but with enormous and enduring gratitude to have had the opportunity to serve the country I love.
And for some cheery lunchtime reading, Marina Hyde looks forward to the "summer of Tory fratricide and country-shafting" that lies in store.
Marina Hyde
Read more
Updated at 1.21pm BSTFacebookTwitter
Some reaction from Wales.
Mark Drakeford, the Welsh first minister, has issued this statement:
I have never doubted the prime minister's sense of public service or her commitment to do her job, and I wish her well for the future. It is however, her red lines that have brought her to the end of the road and left us in a mess of her making.
A Conservative leadership contest is the last thing the country needs as we negotiate one of the biggest challenges and uncertainties our country has faced in decades. The prospect of achieving an orderly Brexit – one that protects our economy and people's jobs – by the 31 October now seems even less likely. A change of leader will change nothing, we desperately need a change of approach to Brexit based on compromise and a will to heal the growing divisions in our country.
The Plaid Cymru leader, Adam Price, said:
On the steps of Downing Street Theresa May spoke of compromise, but she simply wasn't willing to do so herself. Sticking rigidly by her red lines, Mrs May ignored the interests of Wales and millions across the UK who felt alienated by her approach to Brexit, as summed up in her 'No Deal is better than a bad deal' catchphrase.
This may be the end of the prime minister, but the beginning of a new Brexit battle. Over the coming weeks we will see an anti-EU arms race amongst the Brexiteer wing of the Tory party. We cannot let the fantasy politics which led us to this chaos define our future path.
'Do not waste this time', said Donald Tusk when that final extension was granted. I fear this British government has already failed to listen to such good advice. By putting it back to the people, in a final say referendum, Brexit could have been resolved months ago.
Updated at 1.23pm BSTFacebookTwitter
Jacob Rees-Mogg, on his 50th birthday, describes May as "an unquestionably dutiful person".
Jacob Rees-Mogg(@Jacob_Rees_Mogg)

'Nothing in office became her like the leaving it' An unquestionably dutiful person left with dignity and the Conservatives must now get on and deliver Brexit.May 24, 2019
There is some speculation that Graham Brady, chairman of the 1922 Committee, plans to run for the Tory leadership. His name was not on the statement on the party's leadership rules issued half an hour ago, suggesting he could be removing himself from the process so that he can stand.
David Cameron has tweeted a statement saying he hoped "the spirit of compromise is continued".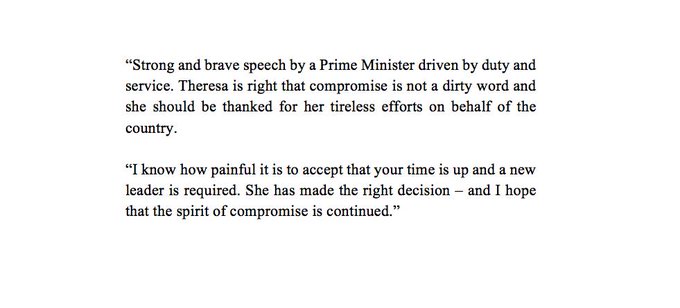 Strong and brave speech by a prime minister driven by duty and service. Theresa is right that compromise is not a dirty word and she should be thanked for her tireless efforts on behalf of the country.
I know how painful it is to accept that your time is up and a new leader is required. She has made the right decision – and I hope that the spirit of compromise is continued.FacebookTwitter
Sam Jones
The Spanish government has described May's decision to resign as "bad news", warning that it significantly raises the prospect of a hard Brexit, reports the Guardian's Madrid correspondent Sam Jones.
"A hard Brexit in these circumstances seems an almost unstoppable reality," the government's spokewoman, Isabel Celaá, said at a press conference on Friday afternoon.
Celaá said the announcement would disappoint all those "who want an orderly UK exit from the European Union". But she said that Spain had contingency measures in place and would do everything possible to "guarantee the best situation" for Spanish citizens and businesses in the UK.
Updated at 12.23pm BSTFacebookTwitter
The Guardian's Owen Jones has no time at all for those who have sympathy for Theresa May.
Spare me the inevitable pity for Theresa May after her tearful farewell address this morning. "Oh wasn't she given such a terrible hand!" people might cry – or "is it her fault that her backbenchers are such a bunch of Neanderthal extremists?" some will say and "it's not her fault Brexit is such an undeliverable mess, is it?". We must see through this. May is the worst prime minister on their own terms since Lord North's reign in the late 18th century, when the US colonies declared their independence.
May did indeed inherit a terrible hand. She then proceeded to douse it liberally with petrol and set it on fire.
Owen Jones
The EU's chief Brexit negotiator Michel Barnier has tweeted a tribute to May.
New prime minister to be selected by mid-July
The Conservative party chairman Brandon Lewis and the vice-chairs of the 1922 Committee, Cheryl Gillan and Charles Walker, have issued a joint statement setting out the process for selecting a successor to Theresa May.
First they thank her for her service to the party as an activist, councillor, MP, a member of the shadow cabinet, party chairman, home secretary and, finally, prime minister.
"She embodies the finest qualities of public service and, with this decision, has once again demonstrated her strong sense of duty and devotion to the national interest," they say.
They set out the following:
The timetable to select a new leader has been decided by the executive of the 1922 Committee after consultation with the party board, which includes representatives of the voluntary, parliamentary and professional party.
Nominations will close in the week commencing 10 June, before "successive rounds of voting will take place until a final choice of candidates to put to a vote of all party members is determined".

"We expect that process to be concluded by the end of June, allowing for a series of hustings around the UK for members to meet and question the candidates, then cast their votes in time for the result to be announced before parliament rises for the summer," they say.
So we should have a new prime minister by mid-July.
They conclude:
We are deeply conscious that the Conservatives are not just selecting the person best placed to become the new leader of our party, but also the next prime minister of the United Kingdom. That is a solemn responsibility, particularly at such an important time for our nation. We will therefore propose that the leadership election and hustings involve opportunities for non-members and people who may not yet vote Conservative to meet the candidates and put their questions to them too.
Updated at 12.13pm BSTFacebookTwitter
Helle Thorning-Schmidt, former prime minister of Denmark, has been speaking to the BBC about "the blues" one experiences after leaving the role. Apparently her father-in-law, the former Labour leader Neil Kinnock, taught her a lot about life after politics. (She is married to Stephen Kinnock, Labour MP for Aberavon.)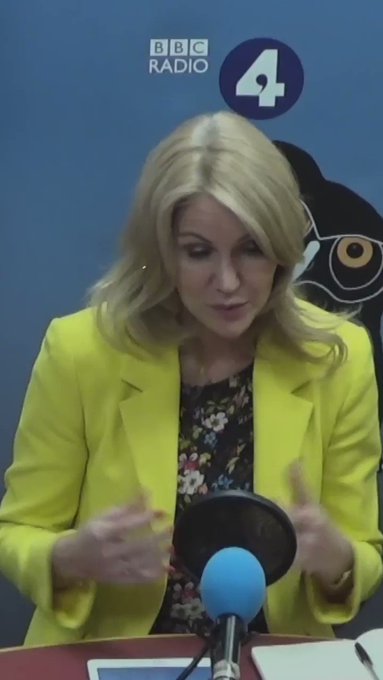 Updated at 12.13pm BSTFacebookTwitter
Harriet Harman has called on people to focus on May's achievements, describing her as "a woman in a man's world".
Some more reaction from party leaders …
The Lib Dem leader, Vince Cable, says May's compromises were too often with the right wing of her party.
Vince Cable(@vincecable)

The Prime Minister is right to recognise that her administration has reached the end of the road.

Sadly her compromises through the last three years have too often been with the right-wing of her own party, rather than about bringing the country together.May 24, 2019
The prime minister is right to recognise that her administration has reached the end of the road. Sadly her compromises through the last three years have too often been with the right wing of her own party, rather than about bringing the country together.
Conservative party interest has always trumped national interest, and yet Conservative MPs continue to demand an ever more extreme Brexit policy. The best and only option remains to take Brexit back to the people. I believe the public would now choose to stop Brexit.
The Green party co-leader, Caroline Lucas, says May had an impossible job and calls for a People's Vote.
While May was almost uniquely ill-equipped to be negotiator we needed, truth is she was given impossible job. You can't achieve a hard Brexit & avoid hard border in N. Ireland, & no new PM can achieve it either. Case for #PeoplesVote stronger than ever.
Heidi Allen, interim leader for Change UK, says:
Heidi Allen MP(@heidiallen75)

Oh @theresa_may , why didn't we see that emotion more? Things could have been so different….May 24, 2019
Source: TheGuardian.com